Chairman of the Ho Chi Minh City People's Committee Nguyen Thanh Phong yesterday received Secretary of State for Foreign Affairs and Commonwealth Affairs of the United Kingdom and Northern Ireland Philip Hammond on his visit to Vietnam.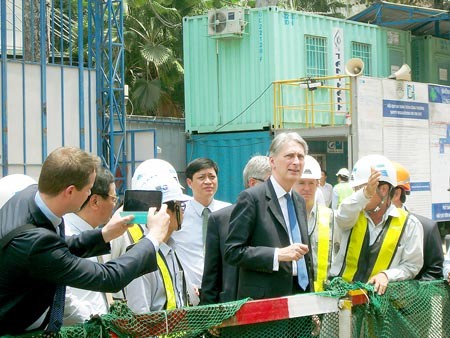 The U. K Minister of Foreign Affairs and city leaders visit construction site of Metro Routes No.1. (Photo: SGGP)
At the reception, the city chairman highly appreciated the visit of the U.K leaders to Vietnam and considered this visit as an important turning point for two countries' strategic partnership relations which would create new investment opportunities between Ho Chi Minh City and the British investors in the fields of economy, trade and infrastructure.
Currently, the United Kingdom is the key's investor of Ho Chi Minh City and ranked the 8th investors among 74 countries and territories. The bilateral trade turnover between HCMC and the U.K reached at US$ 875 million in 2015. With the advantages, chairman Phong desired that more and more British businessmen would invest into Ho Chi Minh City and the city also pledged to create the favorable conditions for the partners in the upcoming times.
Mr. Philip Hammond also appreciated the result and development of Vietnam and Ho Chi Minh City in the previous years.
The British enterprises believed in Vietnam's growth rate so the partners will continue speeding up in the cooperation with the city in the fields of trade, infrastructure, education and humanity resources development, he added.
After the meeting, the U. K Minister of Foreign Affairs visited the construction site of the Metro Routes No.1 in front of the Municipal Theater, HCMC.