The event attracted around 250 officials and representatives of enterprises of the two countries.

Speaking at the conference, Mr. Nguyen Thanh Phong said that the total export turnover of HCMC's businesses to Cuba was US$60 million in 2017, up 45 percent compared to 2016; and reached US$12.8 million in the first quarter of 2018, a rise of 5 percent compared to the same time period in 2017. Key export products included coffee, ceramics, chemicals, paper products and among.
The total import turnover of HCMC from Cuba in 2017 reached US$73,000 and jumped US$53,000 in the first quarter of 2018.
Vietnam-Cuba bilateral turnover approached US$224.3 million in 2017, including the total export turnover of Vietnam to Cuba of US$217 million.
Export and import commodities between the two countries included food, spice, building materials ,textile garments and footwear, vaccine and medicine.
Though Vietnam is one of the 10 countries with highest bilateral trade turnover of Cuba, export value from Vietnam to Cuba accounted for just 3.5 percent of the total import value of Cuba. Only 6 Vietnamese businesses have invested in building manufacturing plants in Cuba.
The conference is considered as chance for Vietnamese enterprises to learn about Cuban market to improve export products to Cuba, Chairman Phong added.
The Chairman stressed that the city authorities will create advantages to support HCMC's enterprises to increase export turnover and investment in Cuba as well as offer favorable conditions for Cuban investors.
Celia Labora Rodriguez, Head of the Department for International relations of the Cuban Chamber of Commerce said Vietnam has many commodities meeting the Cuban people's demands, such as agricultural products, machinery, textile garment and footwear and others.
Both nations can cooperate in fields of tourism, agriculture, biotechnology, medicine, and renewable energy.
President of the Cuban Chamber of Commerce, Orlando Hernández Guillén said that Cuba has implemented preferential policies to attract foreign investors.
Additionally, the Investment & Trade Promotion Center of Ho Chi Minh City also organized an exhibition as the conference's sideline activity featuring more than 200 Vietnamese goods of 70 domestic businesses.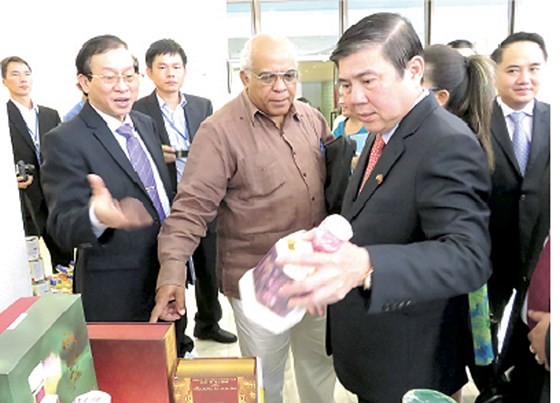 Chairman of the People's Committee of HCMC Nguyen Thanh Phong presents the city's key products at the exhibition.