Moon cake businesses said that they were striving to keep the price from rocketing up as material costs have never been as high as this year while the number of orders and their value are not high.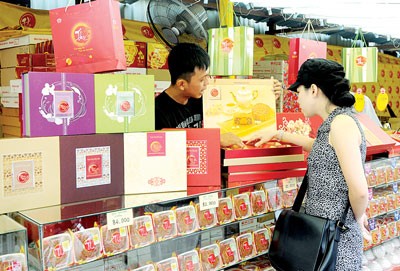 A moon cake shop in Hoang Van Thu Street, Phu Nhuan District, HCMC (Photo: SGGP)
Material prices have increased at least 10 percent, according to Ms. Nguyen Thi Ngoc Thuy, director of Thanh Long Company. Some materials see the price up three times over the same period last year, she said.
Melon seed price goes up to VND185,000 a kilogram from VND65,000-70,000 a year ago. Sesame jumps from VND60,000 to touch VND80,000 a kilogram. Cashew nut price is double and labor cost is half as much again as it was last year.
Besides, petrol prices have increased four times since last year and tightened control over overloaded trucks has pushed up transport costs.
We were calculating how to reduce costs and accept less profit to make up the costly materials for better sales, she said.
Ms. Thuy predicted that most companies would not be able to increase their output by 10-20 percent because of weak purchasing power.
So far, only Kinh Do and Bibica companies have announced to hike their output by 12-25 percent over the same period last year. Most others have not intended to do so.
Deputy director general of Bibica Company Phan Van Thien said that the company would raise the price by 5-10 percent to swing VND36,000-130,000 per cake. High-class variety will be priced VND350,000-790,000 a box.
Kinh Do cake price will surge 7 percent over last year while other brands like Thanh Long and Nhu Lan announce a 5 percent increase.
Moon cakes are being made to serve Full Moon Festival which falls in the fiftieth day of the eighth lunar month every year.