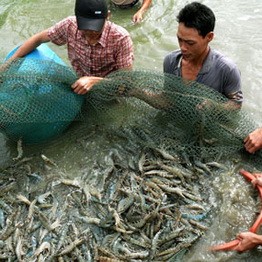 Undated file photo of aquaculture in Ca Mau
High tide has damaged more than 1,000 hectares of crops and aquaculture in the Mekong Delta province of Ca Mau, causing complete loss to thousands of households.
Ca Mau Province's Agriculture and Rural Development Department reports that sea water surged over dykes in the Dam Doi, Nam Can, Ngoc Hien, Phu Tan districts destroying more than 1,000 hectares of shrimp and fish ponds.
High tide is set to peak this weekend.
Local authorities have implemented some measures to cope with high tides and protect property and people's lives.
The authorities also asked famers to temporary halt shrimp hatching.