Thousands of farmers in the highland provinces of Gia Lai and Kon Tum have been struggling to survive, after cassava prices fell drastically, while its cultivable area and production has increased.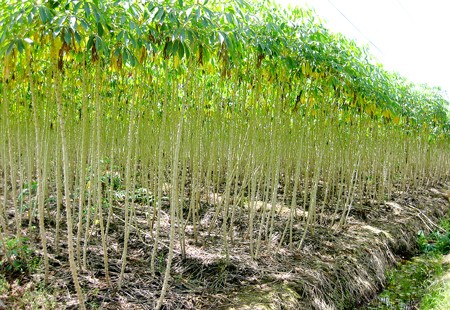 Cassava field. (Photo: SGGP)
After seeing good prices for cassava, many households in Gia Lai and Kon Tum Provinces switched to growing this short-term crop. According to the provincial departments of Agriculture and Rural Development, cassava is growing in an area of nearly 70,000 hectares in Gia Lai, and 45,000 hectares in Kon Tum Province this year, averaging one hectare to produce around 30 tonnes of cassava.
With its current crop, Gia Lai and Kon Tum have been providing millions of tonnes of cassava in the market. But, although there are around ten starch processing plants in the North Central Highlands of Vietnam, they fail to consume the suddenly-increased cassava production.
Tran Thi Thu, owner of a cassava buying agency in Mang Yang District of Gia Lai Province, said that the price of dried cassava dropped to VND2,000 per kilogram from VND5,000 per kilogram, after farmers harvested a bumper cassava crop. An uncertain market caused buyers to hesitate as they were worried that prices would drop further.
Le Thanh Ha, deputy director of Phu Tuc Export Agricultural Products Processing Factory, said that although local authorities warned farmers against sudden and massive shift to cassava, they still expanded the growing area. The factory can only increase buying to a limited amount.
Cassava is mainly exported to China. However, the demand remains unstable, causing much uncertainty in farmers and processing plants. This year, export to China faced many difficulties, causing cassava prices to drop sharply.