The High-Quality Vietnamese Goods Fair 2010 began today in southern An Giang Province's Long Xuyen City with the participation of 170 businesses showcasing products at around 500 stalls.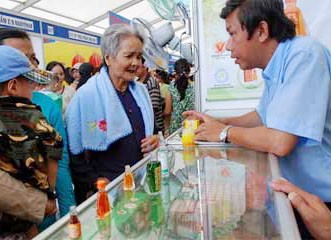 Visitors look at products during the High-Quality Vietnamese Goods Fair held in Tinh Bien District, An Giang Province last year. This year's fair, taking place in the same province has attracted 170 businesses with around 500 stalls. (Photo: Tuoi Tre)
The six-day event is jointly organized by the Business Studies and Assistance Center (BSA), the An Giang Province Trade and Investment Promotion Center, and Sai Gon Tiep Thi newspaper.
The fair includes four special programs focusing on issues related to businesses, students, consumers, farmers, and cooperation activities between An Giang Province and Ho Chi Minh City, the organizers said.         
The first program, "Connecting producers and traders," aims to help producers and wholesalers set up connections with retailers in An Giang Province to seek business opportunities.
It will also include a meeting on the evening of March 9 between Vietnamese businesses and their counterparts from the Cambodian provinces of Takeo and Kandal.   
The second program is a forum titled "Students with Vietnamese goods," which will take place on March 10 at An Giang University with the participation of several ambassadors for Vietnamese goods, including artists Quyen Linh, Kim Xuan, Ta Minh Tam, and Nguyen Duc Trung. They, along with several business representatives, will exchange ideas and hold a discussion with students about Vietnamese goods.
Also on March 10, seven musicians from the Ambassador Club for Vietnamese Goods will perform new songs promoting Vietnamese goods.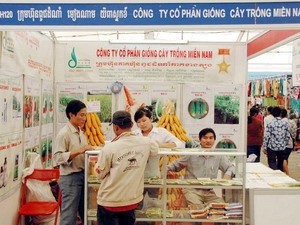 A stall exhibits agricultural seed varieties during a fair to showcase high-quality Vietnamese goods and exports in Battambang, Cambodia last November (Photo: VNA)
The third program, "Heading towards consumers," will include two forums in which experts will provide information on Vietnamese milk products for consumers, and agricultural supplies for farmers.
The last program, "New decade for Vietnamese goods," will see leaders from HCMC and An Giang come together to review cooperation between the two localities over the past decade and discuss new plans for the years to come.
This fair also serves as preparation for another event in which high-quality Vietnamese goods and exports will be showcased in Phnom Penh, Cambodia April 3-7. 
The upcoming event will be organized by the BSA, High-Quality Vietnamese Products Club, An Giang Province Trade and Investment Promotion Center, and the Vietgoods Company.
The fair is aimed at helping Vietnamese businesses expand their markets in Cambodia while meeting Cambodians' demand for high-quality Vietnamese goods.