Petrol and cooking gas prices have been hiked by VND900 a liter and VND52,000 per cylinder from August 1.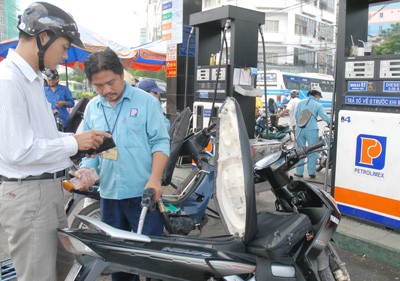 Petrol prices have again increased by VND900 a liter from August 1 (Photo: SGGP)
At 2pm on Wednesday, the price of petrol moved up by VND900 a liter, making it the second hike within 12 days since July 20.
The new price of Ron 95 and Ron 92 gasoline will cost VND22,400 and VND21,900 a liter, respectively.
Diesel price soared by VND500 to reach VND20,750-20,800 a liter, while a liter of kerosene will now cost VND20,650, hiking by VND500 per liter.
Engine oil moved up by VND500 to retail at VND18,050-18,450 a kilogram.
After a reduction of VND36,000 for one month, retail price of a cooking gas cylinder on August 1 rocketed by VND52,000 for a 12kg cylinder, for which customers will now have to pay VND367,000.
The hike has been made as the import gas price has increased by US$177.5 a ton.