Domestic rice prices are climbing by the day, squeezing the poor and exporters alike as millers and wholesalers hoard the grain and merchants speculate.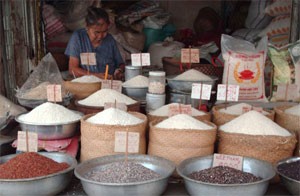 Domestic rice prices are climbing by the day, squeezing the poor and exporters alike
On the wholesale front, a kilogram of dehusked rice has risen by VND300 in the past two days to VND7,300 while traders are paying VND5,600 for unhusked rice, up VND200-400.
 
Tran Khanh Lon, a prominent rice merchant in Can Tho City's Cai Rang District, says the mills are reluctant to sell their rice and are only parting with a hundred tons per day, or less than half the quantity last week.
 
What's more noticeable to the general public is the number of rice shops that have closed their doors for now because of the steep prices and lack of supply.
 
One such hard-hit retailer is Mr. Phuc of the Phuc Loi shop in February 3rd Market in Can Tho's Ninh Kieu District. He says wholesale rice from Cai Rang has gone up by VND1,000 to VND8,000 per kilogram since a week ago.
 
Worse still, the amount he could buy was so little that Phuc Loi decided to close for a few days and see if the market turned before deciding whether to stay in business or give up for good.
 
Exporters are feeling the pinch too and reckon they can only pay VND7,200 per kilogram for dehusked rice at most if they are to break even, so the extra VND100 they must now pay guarantees a loss if they make the purchase.
 
Most of the big traders, meanwhile, are willing to pay the extra VND100 as they can pass it on to their Vietnamese customers.
 
Many millers and wholesalers in Cai Rang have been buying as much rice as possible and hoarding it in the expectation of even higher prices ahead, thereby worsening the situation for the retailers and the suffering masses.
 
By Thursday afternoon a kilogram of standard rice had reached VND13,000 while the top-grade stuff was fetching VND16,000, a rise of nearly VND3,000 in a week.
 
Of course the many rice growers around Can Tho are happy with the extra revenue but the many immigrants who have made the city their home have next to no discretionary income and can barely afford to buy the staple grain of Asia.
 
One of these immigrants is Nguyen Thi Ha from Dong Thap Province, who says she paid VND9,000 for a kilo of rice last week but now must fork out an extra VND4,000 for the same amount.
 
"It's not just me; there are many poor people who shop at An Hoa Market and are stupefied by how much they must pay for rice," Ha said.