The hottest topic in real estate is about apartments worth millions of dollars on Diamond Island, just 10 minutes travel by boat from District 1 in HCM City. The apartments' owners are said to only offer them to the rich and famous.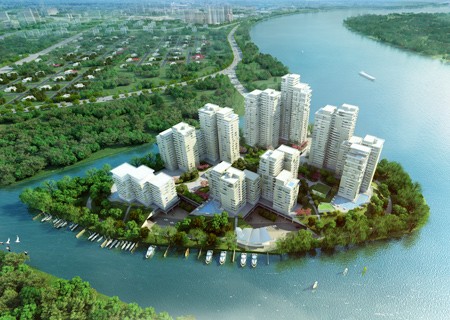 Diamond Island
Located on an island shaped like a water droplet on Saigon river, these apartments are as expensive as gold and could be valued at up to $3 million. Rumor has it that Hollywood superstar Brad Pitt and Vietnamese singer Tuan Ngoc have toured the apartments and placed orders.
Real estate developers speculate that in the owners will not put the apartments on the open market, but will select island residents in accordance with special norms. The owner has been using a yacht with the sole purpose of bringing VIP clients to visit the island and learn about the project.
Developers admit that the apartments are located in an ideal position. Only ten minutes to the center of HCM City by boat, the apartments face Thu Thiem new on the right and on the left the project faces Saigon River. There is only one path by land, because the project faces river and water on all sides.
A lot of stories have circulated about the island. Some people say the name "Diamond Island" came about after the owner of the apartments brought in a geomancer to consider the location and found that the island was like a "gem in the mouth of a Dragon." Others said that from above the island looks like a green gem with many trees.
The Japanese architect, Arata Isozaki, won second prize in the design competition organised in 2008 to locate the best visions for the island. He is one of the most renowned architects in the world, famous for many important works.
When asked about the intentions of famous showbiz stars to purchase the apartments, Trinh Thanh Huy, General Director of Binh Thien An Company, the investor of the project, said that they came there to learn about the project but they have not made final decisions.
"It is not strange that foreigners are interested in the project. We have advertised on international information channels," Huy added.
He went on to say that Diamond Island project has 1,100 apartments, while 500 of them will be offered to select clients who will not be able to transfer the apartments within two years.
Huy said that even with the high price tags of $300,000-3 million for each apartment, the most expensive so far in Vietnam, the investor has not been able to profit with the project and has decided to keep 50 percent.