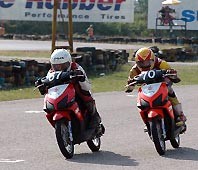 Honda Click motorbikes
The first 9 months of this year saw 12,000 Wave Alpha motorbikes, 70,000 sets of IKD parts and 225,000 components and accessories made by Honda Viet Nam (HVN), worth US$21 million, entering neighboring countries, said Hiroaki Funami, general director of the HVN.
HVN's volume of exported motorbikes has totaled 180,000 since May, 2002, with the sales of up to US$128 million. In addition, HVN schedules to increase its output capability from 800,000 to 1 million motorbikes a year.
On the other hand, HVN made debut of a new model of motorbike named CLICK with the 108cc engine on Thursday.