Honda Viet Nam on August 29 opened its second motorcycle factory, which mainly manufactures scooters in the northern province of Vinh Phuc.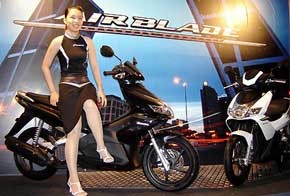 Air Blade scooters manufactured by Honda Viet Nam sells well in the country
The US$65 million, 300,000 square meter factory is designed to produce 500,000 units annually and possess all the most up-to-date Honda production technologies, according to the Japan-invested firm.
With the new plant, Honda Viet Nam's annual motorcycle production capacity will total 1.5 million units.
The opening of the second factory will help Honda Viet Nam satisfy the increasing and diversifying demands of Vietnamese customers.
Company general director Koji Onishi said it was a reflection of the company's desire to expand business in Viet Nam and to effectively contribute to the country's development.
Japanese Ambassador to Viet Nam Mitsuo Sakaha emphasized that the second motorcycle factory would help Honda Viet Nam better ensure its presence in the domestic market.
Deputy Minister of Industry and Trade Le Duong Quang urged the company to focus on the export of vehicles and spare parts and on technological innovations, so as to create the best quality products for Vietnamese customers.
The company reported selling 800,000 units during the first eight months of this year.