US-based aerospace product manufacturer and service provider, Honeywell International Inc., has said it will supply process controls for Viet Nam's first oil refinery under a contract worth US$17.5 million.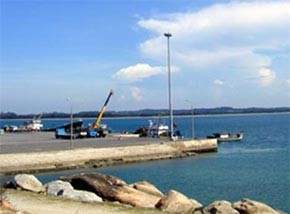 Dung Quat Refinery is under construction.
Honeywell says the Technip Consortium of France, which is building the refinery in Dung Quat Economic Zone in the central province of Quang Ngai, has selected Honeywell to supply its process automation system. The refinery is expected to begin production in early 2009.
Dung Quat Refinery is designed to produce 130,000 barrels of oil per day and other products such as propylene, liquid petroleum gas (LPG), motor gasoline, jet A1 kerosene, auto diesel and fuel oil. The main contractors are Technip, JGC of Japan and Reunida Technica of Spain. 
PetroVietnam – the Vietnam Oil and Gas Corporation – is the owner of the refinery project. This refinery, one of Viet Nam's most important business projects, is expected to help the country become a player in Asia's oil market.
PetroVietnam, through its various subsidiaries, covers all the operations from oil, gas exploration and production to storage, processing, transportation, distribution and services in Viet Nam.