The Vietnam National Administration of Tourism cooperated with the local authorities in the building of more high-class hotels. However, this has caused difficulties for the Vietnam Tourism board who are now struggling to find enough employees that are of a high enough standard, which is now the biggest problem facing these new ventures.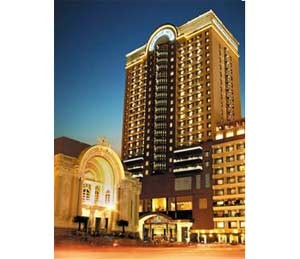 Five-star hotel Caravel in HCMC

According to the Vietnam National Administration of Tourism, of 8,556 hotels and hostels across the country, only 25 are five-star (11 in HCMC and 8 in Ha Noi) and 65 others are four-star. The percentage of high-class hotels in Viet Nam is therefore only approx. 1%, and in comparison to other SouthEast Asian countries, this is low; in Bangkok, there are 29 five-star hotels and in Kuala Lumpur of Malaysia, there are 24 hotels of this kind.

In an effort to solve this shortage of luxury rooms in Viet Nam's major cities, the Vietnam National Administration of Tourism is encouraging investors to upgrade their present hotels and find new plots suitable for four-star and five-star hotels. In Hanoi, projects to build 4 new five-star hotels and 14 new four-star hotels have been given the go ahead.

In HCMC, the Department of Tourism has proposed 21 plots of land that they deem suitable for the building of luxury hotels to the HCMC People's Committee. Dong Thi Kim Vui, the Director of Department of Tourism said that all the 21 plots are currently being surveyed, 18 of which are due for completion by 2010.

For the Thu Thiem residential complex project, 32 hectares have been set aside for the building of hotels and amusements. The department recently suggested that the plans be altered; hotels will now be built on the land where guesthouses had been planned for the officers, as guesthouses will not bring in the profits needed.

The major problem is still the lack of high quality employees. Statistically, the percentage of professionals working in tourism is only 21.8 percent; only 105 employees (0.12%) have post-graduate degrees; only 3,180 employees (3.6%) have graduated from university; and the number of employees with a college degree is 7,342 (8.3%).

The rapidly increasing number of high-class hotels will create a competitive job market for professional employees in tourism. Pham Thanh Ha, Deputy General Director of the Caravelle Hotel, complains that her hotel has continuously lost talented employees to their competitors who offer them a better salary.

The opening of two five-star hotels in HCMC in the next few months is worrying the others because they may lose their employees to poaching. The Tourism Department has to solve this problem by inviting foreign experts or foreign centers to train Vietnamese employees in order to avoid a future employee shortage.