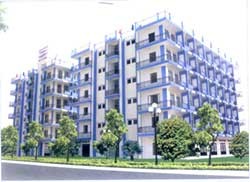 More apartment buildings for medium income earners are constructed to meet the rising demand for residence.
The property market is warming up as medium-income earners seek space in apartments building in new urban areas in Ho Chi Minh City, say realtors.
Affordable apartment building booming
The Kien Thanh Trading & Construction Co. Ltd. is one housing developer focusing on medium-income earners. The corporation recently finished the construction of its affordable apartment building in Ho Chi Minh City's District 6.
The apartments are quoted at VND5 million per square meter. When buyers pay 30% of a flat's value, which is on average about VND95 million as for a 60 square-meter apartment, they can legally move into their flat. Meanwhile, the buyers can continue to pay off the rest by taking out bank loans over a period of up to ten years.
"My wife and I feel much comfortable when living here because the apartment building has all good facilities, and it is always clean and secure," said Mr. Pham Xuan Tinh, who is living with his family at the building's fifth floor.
Another housing developer, the Trung Nam-Khang Gia Co. Ltd., also started its construction of an eight-story apartment building in a 10,000 square meter area in Tan Binh District's new residential zone.
The Gia Phu-Cotec building will consist of over 380 flats, a green park, a kindergarten, stationery shops and a large hall for community activities. Each apartment was quoted at around VND350 million and would be paid in many installments.
"With a monthly income of VND 5- 7 million, a young married couple can easily make their dreams of owning a modern house come true," said Mr. Do Huu Son, manager of the sales department of Cotec, a construction joint-stock company that jointly invested in the building.
Other local and international investors also started their constructions and applied the same payment terms for apartment buildings in surrounding areas of Ho Chi Minh City such as Di An district or Song Than Industrial Zone in Binh Duong province, 10 kilometers away from Ho Chi Minh City.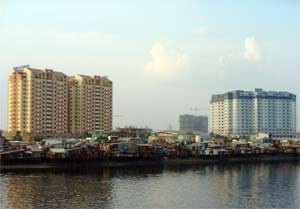 Khanh Hoi (L) and Ton That Thuyet apartment buildings for low and medium income earners in District 4, HCMC (Photo:TK)
These apartments, each priced at VND180-350 million, consist of high-standard facilities such as elevator, green park, children's playing house, and 24-hour security.
Solutions for affordable apartments
Ms. Doan Thi Thao Nhi, manager of FICO Real Estate Company's Sales and Investment Department, revealed why the company could provide tenement houses at such a low price, saying that her company did not focus much on interior decoration, while still keeping the design and construction standards.
Another reason, according to Mr. Do Huu Son, was that Cotec chose the city's outskirts to land its constructions. These areas have an abundant land fund, which helped investors reduce their expenses for resettlement compensation, land taxes, site clearance, etc.
In addition, many factories are locating in these zones, which also implied a strong demand for affordable house of medium-income workers, especially when they can not afford to buy land, which is obviously too expensive so far, he said.
Furthermore, more and more companies decided to invest in building apartments for medium-income earners because such construction projects can be finished in only one year and there is currently a rising demand for this type of housing. With these favorable conditions, the investors will soon take back their capital for coming up projects.