People struggle to buy houses since housing price remains much higher than the GDP (gross domestic product) per capita, financial experts warn.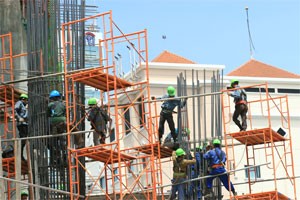 Blue-collar workers have no chance to buy house (Photo: Minh Tri)
"Lending interest rate on loans to housing in Vietnam amounts to more than 20 percent per annum, which is too high compared to Taiwan's 2.5 percent per annum," says Bui Thanh Son, deputy general director of property firm Phu My Hung.
"Figures from the company show only about 30 percent of our customers have to borrow from banks, while the rest say they buy houses after saving enough money."
Financial experts say investments flow into main asset classes, such as gold, stock and dollar, due to a surging gold price and stronger greenback, prompting to an increasing amount of venture investments and bubbles.
Property is the most favorite asset class of city people, with 34 percent of household having invested in, according to the National Financial Supervisory Commission.
The amount of investments in production sector remains low, amounting to 24 percent, the commission says in a report.
Analysts say policies on land management and monetary help curb speculation and enhance the market's stable growth.
However, some of them hinder investments flowing into the market, leaving it getting bearish for years.
Under the Circular 13/2010/TT-NHNN, the state bank raises the risk ratio of credit to property investments to 250 percent from 150 percent, forcing commercial banks to restrict property loans.
The regulation also states that commercial banks are required to raise their capital adequacy ratio (CAR) to a minimum of 9 per cent – an increase of 1 percentage point.
CAR reflects the capacity of the bank to meet time liabilities and manage credit and operational risks.
It ensures that the bank has the capital to cushion potential losses, protecting depositors and creditors.
The State Bank of Vietnam in March ordered all lenders to restrict non-manufacturing credit at 16 percent by the end of the year. It targets annual credit growth of 20 percent for 2011.
Experts say shortage of fund is among the main obstacles to the property market, which requires big and long-term loans.
"The economy will be still turmoil, if we keep tightening the monetary policy," says Le Xuan Nghia, vice chairman of the National Financial Supervisory Commission.
"Those who want to buy houses, meanwhile, are standing on the sideline to wait for the government's further moves. As a result, the property market remains stagnant due to a severe shortage of capital."