Housing and land prices have quickly increased recently in Hoc Mon and Binh Chanh districts because there is information that the two rural districts will be developed into urban districts.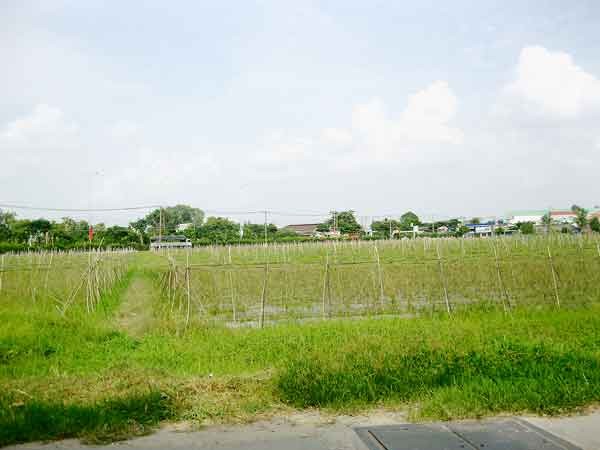 Speculators have pushed up agricultural land prices in Hoc Mon district basing on some unapproved projects (Photo: SGGP)
Similarly, real estate businesses have highly pushed up prices because of the news that a group will build a 15,000 hectare urban area and a 63 kilometer riverside road from Ham Nghi street, district 1 to Ben Suc bridge in Cu Chi.
 
According to a survey by Sai Gon Giai Phong Newspaper, the hot land price has occurred for the last one month in the above districts.
 
Mr. Nguyen Van Binh from Pham Van Hai commune, Binh Chanh said that before the Tet, he intended to buy a land lot which owner demanded VND1 billion (US$44,000) however he did not buy because the lot does not have land use right certificate. After the Tet, the owner has raised the price by VND1.5 billion without certificate.
 
Similarly, Mr. Tran Van D said that six month ago he planned to buy a land plot measured 4x16 meters in Vinh Loc B resettlement area which brokers demanded VND800 million but he did not purchase commenting the price was too expensive. Recently, he asked the owner and knew that the price has rocketed to VND1.6 billion.
 
In Cu Chi, many people have been eagle with the 15,000 square meters project and the riverside road. A local resident said that many households had kept their land instead of selling to get more information about the project.
 
Talking to Sai Gon Giai Phong Newspaper, chairman of the city People's Committee Nguyen Thanh Phong said that the city advocated the policy of building the riverside road and disagreed with clearing entire Trung An commune to build the 15,000 hectare residential area.
 
He suggested buying land in 6,000 hectare Tay Bac urban area in Cu Chi where has been planned and site clearance has been done for investors.
 
In fact, the city has invited investors to this project for the last ten years but it has not taken shape so far because the area is located near Sang canal, which has been seriously polluted by neighboring plants and industrial parks in HCMC and Long An and especially Phuoc Hiep garbage dump.
 
Moreover, infrastructure system has not been developed to connect the area with the center of the city making travel from Tay Bac urban area to the downtown inconvenient.
 
Besides Tay Bac urban area, Cu Chi has had other big projects such as a $1.2 billion urban area by a Malaysian investor but it has not made any progress for the last ten years.
 
The city has revoked An Phu Hung new urban area project in Tan Hiep and Tan Thoi Nhi communes, Hoc Mon after many years of delay due to long lasting site clearance and compensation.
 
Land price has rocketed in Cu Chi because of a 15,000 hectare urban area project which the chairman of the HCMC People's Committee said the city did not advocate (Photo: SGGP)
Talking about the upgrading of some outskirt districts, the Department of Internal Affairs said that the review of socioeconomic situation, infrastructures and norms to develop Binh Chanh, Hoc Mon and Nha Be into urban districts has basically been done. But some norms have not met requirements to establish urban districts.
 
The department is reexamining all norms one more time before officially reporting the projects in writing to the city People's Committee in March.
 
So far, these all have been projected and there are many things in need of discussion before submitting them to local and central authorized agencies to consider and approve. Therefore, investors should be cautious while investing in these areas to prevent losses in case the projects do not come true.