Hundreds of Vietnamese traders are transporting fresh flowers to the northern province of Lao Cai for export to China, where a sudden huge demand has sprung up after consecutive cold waves destroyed their flower crops.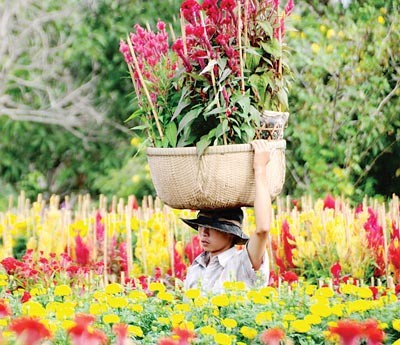 A Tet flower garden in the Mekong Delta province of Dong Thap (Photo: SGGP)

According to officials at border gates in Lao Cai Province, consecutive cold fronts have hit China's flower crops resulting in a huge demand for fresh flowers.
Border gate authorities estimate that about 1,500-2,000 boxes of flowers, mainly roses and daisies, are being exported across the border every day. Each box contains about 1,200-1,500 stems.
Until Tet Lunar New Year, the demand for fresh flowers in China is expected to continue to surge.
In related news, since January 1, China has begun to implement a policy to stick labels and give certificates of origin right at fruit orchards sites to authenticate the produce for export to Vietnam.