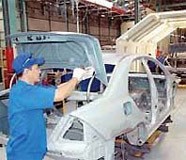 Producing
According to a recent decision by the Ministry of Transport, Hyundai-Vinamotor Joint-Stock Company (HVC) will be permitted to self-supervise the quality of automobiles before launching from March 2006
HVC is the only 100% domestically-invested motor production company that meets the quality control standards of Viet Nam Control.
According to Viet Nam Control's regulations, enterprises must be equipped with sufficient testing devices for self-testing of the registered technical performances. If in quality inspection of a certain enterprise products failing the test account for over 5% or 10% of the total of any month under inspection, the whole line will be deemed unstable in quality.
If the quality is concluded as unstable after four consecutive inspections, Viet Nam Control will suspend its finish certification for the enterprise involved and report to the Ministry of Transport for further action.
According to Viet Nam Control, motor production companies released 59,200 motors of different kinds in 2005 and 22.8% failed to meet the quality standards.