Uncertain factors in the market such as fluctuating USD exchange rates and competitive products are forcing businesses to slash prices on most imported goods to be able to stay operational.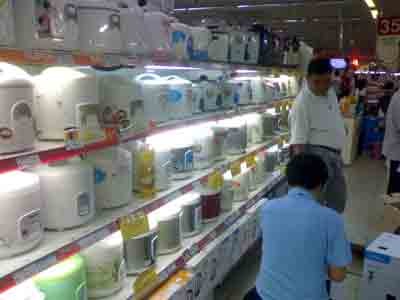 The electronics industry at present focused on cutting prices mainly on electrical and mobile phone accessories (Photo:Y. Nhi)
According to many electronics shops, prices of goods are fluctuating day to day depending on the state of the US dollar. "However, it is quite difficult to assess whether the fluctuated price is actually due to a lower exchange rate or a reduced import price", said a salesclerk at a computer and electronics store on Nguyen Thi Minh Khai Street in District 1 of Ho Chi Minh City.
At present the electronics industry is focused on cutting prices mainly on electrical and mobile phone accessories. For instance, a made in China headset is now available for only VND106, 000 (approx. US$5.17), more than VND10, 000 ($0.49) less than at the beginning of the year.
After vacillating for a long time, some imported food businesses are also releasing goods into the market at slashed rates. With so many factors affecting businesses these days, maintaining a steady price can prove to be a loss.
At Binh Dien wholesale market in District 8, prices of imported frozen pork and chicken have already dropped to VND5, 000-7,000 per kilogram (about USD$0.3 less than in January).
Cosmetic and beverage industries are also busy slashing rates. Nguyen Vu, a trader in cosmetic products from Malaysia, said that by trading in USD, he has the flexibility to lower prices whenever the USD exchange rate goes down.
Despite a decline in the exchange rate, logistic expenses have increased, creating problems for businesses which have to lower prices. For example, there is a decrease of 4-5 percent on shampoo and shower cream products, yet there is no guarantee that the same will happen in retail stores in smaller markets or grocery stores.
Children's toys, which are 90 percent imported, have the greatest margin for reducing of prices. According to Thu Le, a trader in Binh Tay Market in District 6, many toy sellers are slashing prices on such goods like car models, stuffed animals, etc.
Toys that are priced less than VND50, 000 ($2.44) are able to face a slash of VND2, 000-3,000 per piece, while the costlier ones get a 6-7 percent decrease on the retail price.