Despite a slow-down in the domestic auto market, many car-import companies said they would have to increase vehicle prices since a tax break had ended recently while registration fees had been raised.
In the January-February 2010 period, sales of imported cars in the country dropped sharply, up to 80 percent, from a year earlier, said car companies.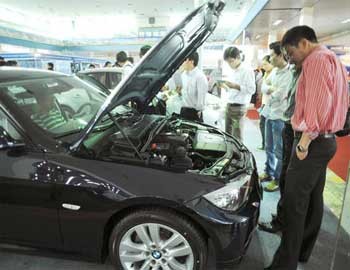 Customers inspect cars at an auto shop in Vietnam. Despite a decline in sales, many car importers say they will have to raise prices to make up for higher VAT and registration fees. (Photo: Dat Viet)
The reason was due in part to the January 1 termination of tax breaks and the hike in car registration fees for the automobile industry. As a result, the value-added tax (VAT) on cars has increased from 5 to 10 percent while registration fees have increased from 5-6 percent to 10-12 percent.
In addition, since cars are included in a price risk management list recently issued by the General Department of Customs, the price of each imported car is subject to an increase of up to thousands of US dollars.
Therefore, several car importers said they would have to raise prices despite the current decline in sales. This month, sales are down around 50 percent compared to the same period last year.
According to estimates by a number of companies, if a car is imported for US$20,000, for instance, the selling price would be around VND50 million ($2,630) higher than that in early December 2009, since companies now have to include the new VAT and fees in the cost.
As a result, the number of cars imported into Vietnam has also dropped. In February, vehicle imports fell by 26.5 percent from January to 2,500 units, said the General Statistics Office (GSO).
In January, the number of imported cars was 3,400, a decline of around 69.6 percent from last December, the GSO said.