Prices of imported cars in Viet Nam are set to increase as the Ministry of Finance on March 12 raised the import tariff on new cars from 60% to 70%, and the rise will come into effect at the end of this month.
The import tariff on used cars will also increase by about 10%. This tariff hike is among the Government efforts to reduce traffic congestion by curbing mass imports of automobiles.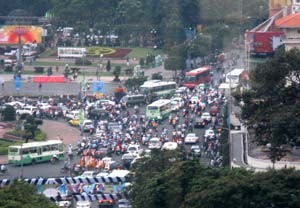 Traffic jam in front of Ben Thanh Market in downtown HCMC (Photo: Khanh Van)
Euro Auto, the distributor of BMW in Viet Nam, has announced its new price policy. It says the prices remained unchanged for those customers who have deposited and finished all buying procedures before the date of the new tariffs, and the cars will be delivered within 15 days. In cases where contracts are signed after that date, the price will increase by 10-15%.
Hyundai Vietnam is set to increase its price by 4-6%.
Viet Nam saw imports of new cars in January and February increase by 328% year- on- year, according to the General Statistics Office. A total of 10,000 cars were imported in the first two months, putting the total spending at US$187 million.

Viet Nam automobile sales rose nearly 200% in February, pushed by a strong rise in the commercial vehicle sector, the Vietnamese Automobile Manufacturers' Association (VAMA) said on last week.
The 16 members of the association said they sold a total of 8,920 units in February, up 198% year-on-year.
The increase was mainly driven by a 485% jump in commercial car sales, while passenger car sales went up 92%, VAMA said in its report.
The latest data means Vietnam manufacturers sold 21,004 cars in the first two months of 2008, up 172% year-on-year, the report said.
For this year, the Ministry of Industry and Trade predicts spending of US$431 million for import new cars and US$900 million accessories.