Raised import tariffs on imported steel ingots have been proposed. The increase would see tariffs increase from the current five percent to 17 and steel, in the form of finished products, from 12 percent to 18. It is hoped that it will boost the consumption of locally produced steel on the market, which has now been flooded with the dumping of cheap imports.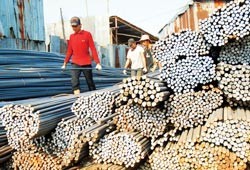 More than 600,000 tons of steel is stocked in the country
Apart from Chinese-made steel, products from ASEAN countries, including Thailand, Indonesia and Malaysia are inundating the market. The presence of imported steel from Korea and Russia has also been reported.

Korean and Russian made steel is sold at some VND125,000 more than products with the same brand originating from ASEAN countries.

According to recent statistical reports by the General Department of Customs, since the beginning of the year, the volume of steel imported into the country has increased sharply.

They pointed out that during the first two months of the year, some 175,000 tons of steel ingots have been imported at $400 each. The volume of imported steel, in the form of finished products, reached hundreds of thousands of tons and sold at VND9,000,000 each.

In early March, 100,000 tons of steel coils poured into the country, especially in the North, where a ton has been selling VND200,000 cheaper than in the South.

It is estimated that the volume of imported steel into the country this month will be 25 percent higher than last month.

An official from VN Steel blamed the inundation of very cheap imported steel on the current global financial crisis, which has led to the postponement of many projects worldwide, resulting in an excess of supply over demand. Foreign steel manufacturers have no choice but to dump products to quickly recover their funds.

The Vietnam Steel Association (VSA) predicted that steel prices in the market will continue to fall due to the ongoing increase in imports coupled with China's recent application of zero percent export tariffs, instead of 15 percent as it used to be, on steel used for building purposes.

In such a context, noting that steel ingots now sell at $ 300 a ton in the Far-East and Mediterranean, VSA is afraid that the price of imported steel, in the form of finished products, will be lower than that of imported steel ingots.

At present, local steel manufacturers are facing harsh competition, while their products are sold between VND 700,000 and 800,000 higher than imported products.

VN Steel pointed out that the rate of local steel consumption during February declined by 20 – 25 percent over the same period last year and over 30 percent compared with January.

To boost the sales of locally produced steel, local manufacturers had little choice but to cut prices of between VND 800,000 and 900,000 a ton last month, but to no avail.

Consequently, a number of local steel producers have now been forced to halt production due to steel stock in the whole country reaching nearly 600,000 tons, while the current demand averages only some 200,000 tons a month, not to mention the flooding of imported steel on the market.

As a measure to support local steel manufacturers to overcome difficulties, Pham Chi Cuong, Chairman of VSA, said that he will propose the ministries of Industry and Trade and Finance increase import tariffs on steel ingots from five percent to 17 and steel, in the form of finished products, from 12 percent to 18.