The total import-export turnover of Vietnam has reached US$30.85 billion in the first two months of the year, up by 16.4 per cent over the same period last year, said General Directorate of Customs.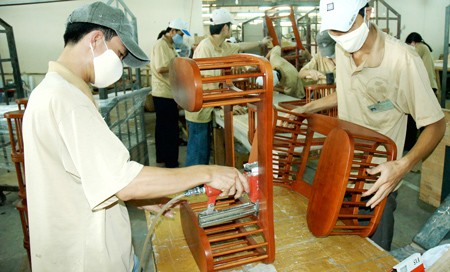 File photo shows workers producing furniture at a wooden company
In the first two months, the country had an import turnover of $15.47 per cent, a year-on-year increase of 8.7 per cent. On the whole, the country's trade gap for the period was $101 million, accounting for 0.7 per cent of the total export turnover.
Meanwhile, export turnover posted $15.37 billion, an increase of 25.4 per cent over the same period last year.
Commodities showing an increase in export turnover over the past two months were machinery and accessories, at $55 million, wood and furniture at $42 million, seafood at $33 million and steel at $27 million.
The import of crude oil decreased $126 million over the same period of last year, mobile and mobile accessories decreased $103 million and rubber products decreased $53 million.