Steel makers have been cutting prices since October as imports have continued to pour in.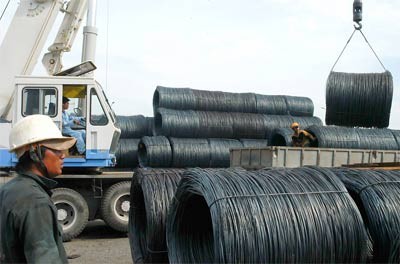 Steel prices are plunging as domestic firms struggle to cope with an influx of imports (Photo: SGGP)
Thanks to the economic recovery, steel prices rose from VND9 million a ton to VND12 million in the third quarter.
 
But soon millions of tons of steel began to be imported and sold at VND300,000-500,000 a ton cheaper than local products, forcing firms to reduce their prices at least three times in late October and early November.
 
Now, rolled steel costs VND10.7-10.8 million and ingots VND11.3 million.
 
Some firms also offer free transport and discounts to dealers.
 
Knowing that foreign steel is flooding the market and local supply exceeds demand, users are waiting for further price cuts to begin construction.
 
According to the Vietnam Steel Association, 8.6 million tons of finished and raw steel were imported between January and mid-September.
 
If in the past, domestic firms saw competition only from Chinese imports, now they are also up against rivals from ASEAN countries after the Asean Free Trade Area (AFTA) deal took effect.
 
Last year 64.5 percent of steel imports were from China while ASEAN nations made up only 11.7 percent. But in July this year imports from ASEAN increased to 44 percent and in September to 74 percent.
 
Urgent measures needed
Dao Dinh Dong, head of marketing at the Vietnam Steel Corporation, said the flood of foreign steel was caused by the fact that importers took advantage of the high demand in the second quarter to step up imports. 
 
In addition, some countries offered tax, interest rate, and exchange rate incentives to their exporters to boost exports, he said.
 
Meanwhile, steel prices in Vietnam jumped due to a rise in the cost of raw materials, power, and oil, and volatility in foreign exchange and loan interest rates, he added.
 
Following a similar surge in steel imports at the end of the first quarter, the Ministry of Finance tweaked import duties by 3-10 percent, immediately slowing imports from China.
 
But such protection is no longer possible after AFTA kicked in, providing enterprises a level playing field.