The country's exports of fruits and vegetables to China through the Mong Cai border gate are increasing in volume, with approximately 30 tons currently passing through every week, said an official from the Trade Information Center of the Trade Ministry.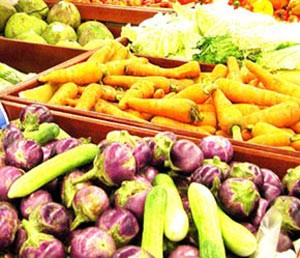 Chinese importers show a great deal of interest in Vietnamese vegetables
The exported fruits and vegetables include bamboo, papaya, cucumber, cassava, eggplant, pumpkin and squash.
 
The turnover in vegetable exports is currently 120,000 yuan per week (approx. US$16,000).
 
The export of fruits grown in the southern provinces continues to increase rapidly, particularly the number of durians, mangosteens and rambutans.
 
During the first week of the month, dried litchis were being exported like hot cakes to China. About 18 tons were exported in each transaction, at the price of 13.5 yuan ($1.75) per kilogram.