The average income of farmers has continued to grow in the last few years to now touch an annual income of nearly VND20 million (US$952), said Cao Duc Phat, Minister of Agriculture and Rural Development.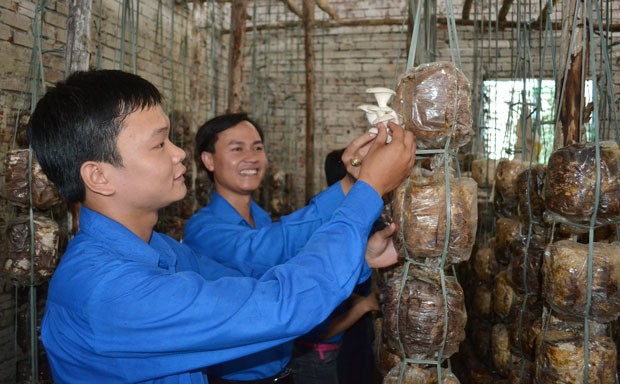 Farmers plant mushroom to improve their income
Minister Phat announced this at a meeting on December 25 in Hanoi to review the five-year implementation of Resolution 7 of the Party Central Committee for agriculture, farmers and rural development.
The Minister stated that the growth of agriculture, forestry and aquaculture between 2009 and 2013 saw an annual average increase of 2.9 per cent.
For the last five years, the Party Central Committee plan as per Resolution 7 has helped revamp the face of rural districts and farmers' living conditions.
In the agriculture sector, production has soared with higher quality and increased exports. Farmers' average annual income has hit nearly VND20 million ($952), 2.18 times higher than in 2008. Poverty has also slumped by 12.6 percent compared to 2008.
However, the Minister acknowledged that there have been shortcomings in the agriculture sector such as not applying advanced technology in production, low competitiveness, a stagnant restructuring process, and a widening income gap between the rural and urban areas, and between the lowland and mountainous regions.
Speaking at the meeting, National Assembly Chairman Nguyen Sinh Hung stressed that the governments, ministries, and concerned agencies should realize the role of agriculture and farmers in the nation's growth.