Despite the strong flow of foreign direct investments (FDI), economists are concerned on the increasing number of foreign investors switching from producing to importing, which will widen the trade deficit.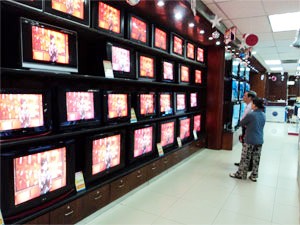 Customers watch LCDs of LG displayed at the home appliance supermarket Nguyen Kim in Ho Chi Minh City (Photo:Minh Tri)
In 2008, Sony Vietnam announced shutting down factories to switch to importing products Sony had made in other countries.
Visual Products Company of Japan's Toshiba Group said in a statement last year that it would consider moving its LCD production from Vietnam to Indonesia. Other home appliance makers including Cannon, LG and Samsung also set up subsidiaries distributing their products.
Many auto ventures have recently planned to focus on importing as Vietnam's commitments to join the World Trade Organization, including cutting taxes and removing the auto protectionism, are coming near.
Auto maker Toyota Vietnam announced it officially made debut of the imported Land Cruiser SUV cars. Another auto manufacturer Ford Vietnam is set to import small car named Fiesta that is made in Thailand to sell in Vietnam's market.
Honda Vietnam said it would import the model named Accord into the domestic market before the Lunar New Year.
Economists warn the increasing number of FDI businesses switching to importing from producing will wide the trade gap.  They are also worried on the fact that low-cost labor for long considered one of the best advantages that Vietnam has in attracting FDI is becoming a disadvantage.
Matthias Duhn, director of the European Chamber of Commerce (EuroCham) in Vietnam, has said low-cost labor is one of the reasons for the country's low added value.
When visiting Vietnam last month, Michael Porter, a leading authority on company strategy and the competitiveness of nations and regions, also advised Vietnam not to consider low-cost labor as an edge.
FDI disbursement stays into spot light
The Foreign Investment Department expects FDI in 2011 will likely to reach US$11-11.5 billion.
Director Do Nhat Hoang of the department said "efforts to boost the FDI this year have seen the government instruct relevant units to improve investment laws, administration procedures and infrastructures, as well as train human resources."
He also noticed that FDI in 2011 will be prior to the production sector.
The Ministry of Planning and Investment will team up with the Ministry of Agriculture and Rural Development to design preferential tax rates attracting more FDI to the seafood export sector.
The former will also cooperate with the Ministry of Trade and Investment to make a similar move for the auxiliary industry.
"We have even built up confidence of foreign investors since the global economy remained turmoil. The investment environment has been improved," said Planning and Investment Minister Vo Hong Phuc.
Statistics from the Ministry of Planning and Investment show the FDI last year reached more than $18.5 billion, a decrease of $4 billion from 2009. However, the disbursement increased more than 10 percent to $11 billion.
FDI last year made out more than 25 percent of the country's total investment, a year-on-year increase of 25.5 percent, according to the Ministry.
Export turnover of FDI businesses reached $38.8 billion, rising 39 percent from last year and making 42.8 percent out of the country's total amount.
The Foreign Investment Deapartment reported Vietnam attracted nearly $18.6 billion last year, equal to 82.2 percent of 2009's figure. Of the amount, real estate sector enjoyed the biggest part, with $6.8 billion.