Though price of domestic powdered milk has remained stable, since the beginning of the year, prices of imported powdered milk have risen. However, imported raw milk products have not increased compared to last year.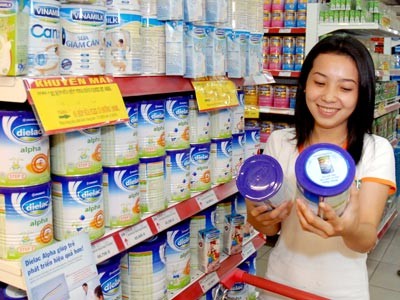 Price of domestic powdered milk is remained stable (Photo:SGGP)
Most milk agencies in Ho Chi Minh City have applied new pricing on   all imported powdered milk products from Abbott, marking an increase of 9 percent.
Compared to other imported powdered milk products, prices of Abbott products such as Similac IQ, Gain IQ, Ensure Gold, Glucerama and Pediasure are higher.
Nestlé brand also increased prices from 2 to 10 percent. Mead Johnson announced an increase from 10 to19 percent.
Explaining the increase in milk products, Nestlé said that it has decided to increase prices due to increase in salaries of workers, electricity rates and foreign exchange rates. Also, Nestlé in Thailand was affected by the recent floods and the company is currently facing a shortage of raw milk.
According to Pham Ngoc Chau, director of Hancofood Company, increasing prices of powdered milk products of Nestlé, Abbott and Mead Johnson is not reasonable because currently, prices of imported raw milk products are about US$3,600 – 3,800 per ton with no increase from last year.

A representative of Lotte Mart confirmed that his enterprise had received a price hike notice from three brands of Abbott, Enfa and XO. He confirmed that Abbot's increase was the highest at 9-10 percent with Enfa and XO at around 5-6 percent.

He also said that his company will sell out milk products in stock at current prices and only apply new prices on new product arrivals.