The Indian Embassy in Vietnam and the Da Nang Department of Foreign Affairs, on January 2 held a press conference to mark 41 years of diplomatic ties; six years of signing of Vietnam-India strategic partnership and 21 years of India and ASEAN relations.
This is part of activities to celebrate the 20th anniversary of the dialogue partnership between India and ASEAN and the 40th anniversary of diplomatic ties between India and Vietnam.
Ranjit Rae, Ambassador Extraordinary and Plenipotentiary of India to Vietnam, said India wants to seek extensive cooperation with Da Nang in the field of human resource training, culture, tourism cooperation through programs such as establishment of Indian English Language Center in Da Nang, granting of scholarships for Da Nang students to study in India; cooperation with the Cham Museum and funding the restoration projects of the Cham towers at My Son in Quang Nam Province.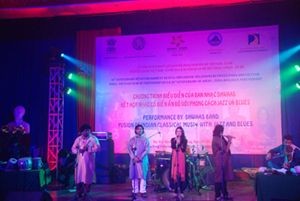 Shwaas band performed at Da Nang yesterday (Photo Bao moi)
The Indian Embassy in Vietnam will coordinate with the Vietnam Chamber of Commerce and Industry and Indian Chamber of Commerce in Vietnam to hold a seminar on Investment and Trade between India and Vietnam in Da Nang on January 3, he added.
Besides, India is also focused on expanding cooperation with Vietnam through friendship visits of military ships, exploration and exploitation of oil and gas on the seas off Vietnam as well as to open India-Vietnam direct flight routes.
In 2012 Vietnam and India strengthened bilateral cooperation in various areas, especially national defense and security. The two countries held a dialogue on national defense in New Delhi last September.
In the field of culture, India's Shwaas Rock Band--a fusion rock band headed by Rajesh Prasanna from New Delhi, performed at Da Nang's Technology College yesterday, January 2.
More than 200 students attended the performance, co-organized by the Embassy of India in Vietnam and Foreign Affairs Department in Da Nang, to mark 40 years of Vietnam-India diplomatic ties, five years of Vietnam-India strategic partnership and 20 years of India-ASEAN relations.
Founded in New Delhi in 2007, Shwaas has become one of most favorite bands in India, playing different types of music at international events.
The band is scheduled to perform in Ho Chi Minh City and Can Tho City on January 4 and 6 and then in Hanoi on January 7-8.