Industrial production in November surged 3.6 percent month-on-month, lifting the growth rate for the first 11 months to 7.3 percent over the same period last year, the General Statistics Office (GSO) said.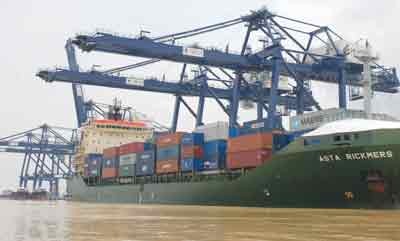 Loading imports at SPCT harbor (Photo: SGGP)
The industrial sector from January-November reached a turnover of VND631.9 trillion  (US$37.2 billion), of which foreign-invested firms contributed VND256.8 trillion  (US$15.1 billion). Private firms recorded a turnover of VND222 trillion  (US$13 billion ), while State-owned firms contributed VND153.1 trillion  (US$9 billion ).
GSO experts said the rise in industrial production indicates that the country's economy was recovering after months of sluggishness due to the global economic crisis.
The increase in industrial turnover is attributed to the Government measures to stimulate the economy such as preferential lending rates and corporate income tax reductions.
Increasing demand for industrial products, particularly in the US, EU and ASEAN has also helped boost domestic production, experts said.
The GSO said a number of industrial sectors have achieved high growth rates in the first 11 months of the year. Sales of air conditioners and fridges topped the list of products sold, achieving growth rates of 46.1 and 31.4 percent, respectively.
Production of steel, cement and footwear also recorded increases of more than 18.5 percent.
Crude oil output in the first 11 months of the year reached 15.2 million tonnes, up 13.5 percent over the same period last year, the GSO said.
However, production of seafood, cotton, adult's clothing, paper, ceramic tiles, televisions and domestic automobiles in the first 11 months of the year was lower than the same period last year due to lower rates of consumption.