Industrial production index (IPI) posted a year on year increase of 8.8 percent in October, according to the General Statistics Office of Vietnam.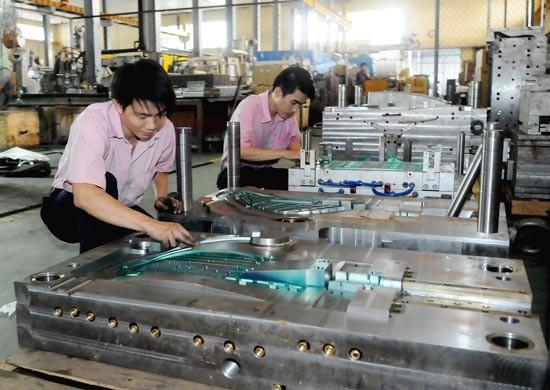 Precise patterns making company in HCMC (Photo: SGGP)
Of these, mining industry increased 6.7 percent, processing and manufacturing 9.1 percent, electricity production and distribution 3 percent, water supply and waste treatment 9.4 percent.
The index hiked 9.7 percent for the first ten months this year, it was 6.9 percent in the same period last year. The four above industries rose 8.4, 10, 11.5 and 7.4 percent respectively.
In October, products seeing the highest IPI increase were automobile, television, cell phone, rolled steel and leather footwear.
Localities seeing the highest indexes were Thai Nguyen province with 121.9 percent, Quang Nam 31.9 percent, Hai Phong 15.8 percent, Da Nang 14.1 percent, Hai Duong 10.3 percent, Dong Nai 8.5 percent, Hanoi 7.7 percent and Ho Chi Minh City 7.4 percent.
In related news, Vietnam has attracted 1,657 foreign direct investment project as of October 20 this year, a year on year increase of 26.9 percent, reported the Foreign Investment Agency under the Ministry of Planning and Investment.
Total registered capital exceeded US$12.4 billion, up 24.8 percent over a year ago.
There were 667 projects licensed in previous years registered to raise investment capital with an extra of US$6.9 billion.
 
New registered and additional capital so totaled nearly US$19.3 billion, up 40.8 percent. Disbursement was estimated to reach US$11.8 billion for the last ten months, up 16.3 percent.