Membership of the World Trade Organization will make Viet Nam integrate comprehensively into the global economy. How do enterprises and sectors recognize the opportunities and prepare for the challenges that integration brings?
 
Do Ngoc Khai, general director of the National Company for Vegetable Oils, Aromas and Cosmetics of Vietnam (Vocarimex) 
An opportunity to launch Vietnamese brands in the world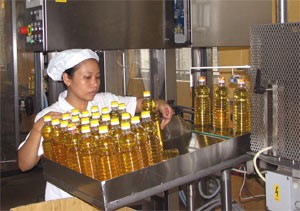 Packaging soybean oil at a Vocarimex's company (Photo: T.C.)
Optimistically, Viet Nam's entry into the WTO will facilitate the marketing of Vietnamese vegetable oil products worldwide.
 
The country's vegetable oil sector has grown steadily in recent years and can meet 90 percent of local demand nowadays.
 
The implementation of measures in the process of regional economic integration has given the Vietnamese edible oil sector much experience with competition and the confidence to integrate comprehensively into the world economy by being a WTO member.
 
Enterprises have prepared for full integration. Many have expanded production and bought new manufacturing equipment.
 
Factories planned for construction next year will double the sector's daily output to 1,300 tons.
 
In addition, specialized ports and material centers will be built for the sector.
 
With thorough preparation, the Vietnamese vegetable oil industry can compete against other countries in the region, and WTO membership will improve the international sales of Vietnamese oil products
 
Nguyen Duc Thuan, vice president of the Viet Nam Leather and Footwear Association (Lefaso)
 
An opportunity to develop the footwear industry rapidly
 
With a large market and equal competitive conditions, especially in the North American market, Viet Nam will have more advantages to boost the exportation of footwear products as the same import duties will be imposed on Vietnamese and Chinese shoes. 
 

A modern milk packaging line at a Vinamilk factory
Although Viet Nam's exported products will face anti-dumping lawsuits, the footwear sector will be better protected thanks to WTO regulations.
 
In order to help small to medium footwear enterprises grasp the opportunity, Lefaso will help them develop distinctive products in order to penetrate the world as well as the domestic market.
 
Mai Kieu Lien, general director of the Vietnam Dairy Products Joint-stock Company (Vinamilk)
 
Dairy industry faces many challenges
We are waiting for an official announcement of Viet Nam's commitments to those countries that are strong in dairy production to know how we will respond to the challenges.
 
Viet Nam's WTO membership means stiff competition for the country's dairy industry as many WTO members sell their milk at extremely low prices.
 
Since they have the right conditions for raising dairy cattle, they can produce a massive quantity of quality milk for little expense.
 
Without an appropriate reduction in import taxes, Viet Nam's dairy industry will find it hard to compete.
 
However, Vinamilk is developing products that will suit local tastes to maintain its market share.
 
Vinamilk will provide quality customer service and make Vietnamese people proud to use Vietnamese goods.
 
In addition, it will sponsor new dairy farmers and preserve milk in industrial ways to have a dairy resource for making many highly qualified products.