As the State Bank of Vietnam has banned gold trading as of March 30 this year, gold exchanges are in the progress of closing customers' accounts. Informal trading floors, however, have taken advantage of this to increase transactions and draw customers back to gold trading on accounts.
Exchanges offer new consultancy services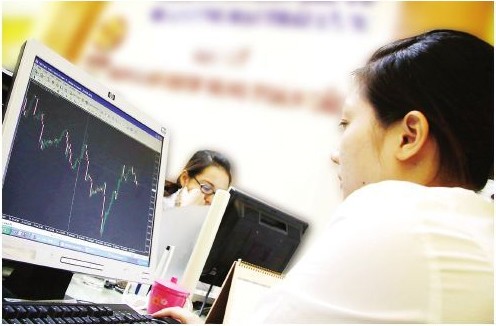 Investors keep track of bullion prices. (Photo: SGGP)
Some official gold exchanges, including ACB and Eximbank, are refusing to open new gold trading accounts as they have started to balance accounts of current customers. Employees are suggesting that customers instead invest in physical bullion.
Meanwhile, other gold exchanges have surreptitiously set up Meta Trader 4 or Forex software for online gold and currency trading in order to change their business into consulting for customers.
A gold exchange owner in Ho Chi Minh City's District 1 said the software cost him around US$50,000-60,000 but that he only introduced customers to online gold trading service companies and did consultancy work instead of providing online gold trading services himself.
Armed with a list of potential customers and cost-sharing methods, he says he's waiting for the right time to offer new forms of investment involving the precious metal.
Illegal exchanges see robust action
Tran The Tuan, an employee of a HCMC-based gold trading floor, said many financial consulting companies have offered him work as a collaborator with many benefits.
According to their offers, if he successfully entices customers from his gold trading floor to open an account at their companies, he will receive a brokerage fee and a commission of US$5-10 per customer order.
He said he had already introduced some customers to these informal gold markets.
However, the job is not easy as most investors usually hesitate to trade on global exchanges due to the high risk, he said.
Prices on domestic gold exchanges usually don't match global prices while international exchanges closely follow market trends thanks to high liquidity and rapid matching possibility. Investors may see large profits but can also suffer huge losses easily, Tuan said.
Despite being illegal, informal gold exchanges like Hong Hoi, and Kim Thieu are still operating and looking for more customers.
According to an employee of Kim Thieu Financial Consulting Co., the procedure to open an account is simple. An individual simply needs an ID card and money to make a deposit. Customers only need to deposit 1 percent and the firm will lend the rest.
To attract investors, most consultants of informal gold exchanges said that this form of investment was easy to make profits and didn't require much capital.
If customers are hesitant, employees suggest they try trading for just one day before deciding to pull out. 
However, the firm said its staff only consults with customers about the movement of bullion prices. Customers incur all risk related to their investment decisions and the company cannot be held responsible for losses.
Hong Hoi Co. is also struggling to find investors. Customers must deposit VND18-20 million to open an account here and buy a minimum of 8.3 taels up to a maximum of 83 taels.
Meanwhile, a company employee said customers should deposit VND100-200 million for safety as higher leverage and for better risk-taking possibilities.