Vietnam's insurance market will continue to grow at fast pace in coming years, a report said on January 8.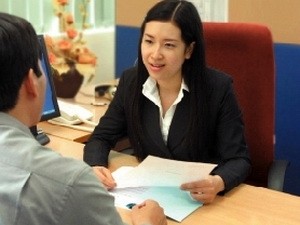 A client leanrs about an insurance policy (Photo: VNA)
The "Vietnam's Insurance Sector Forecast To 2010" report, available at website http://www.companiesandmarkets.com , which contains one of the world's largest collections of market research reports and company profile from leading global market research report publishers and analysts, said the market will be supported by the liberalisation post WTO agreements, economic growth, rising incomes and increasing insurance awareness.
According to the report, Vietnam's insurance market, one of the fastest growing markets in the world, has expanded rapidly over the past few years.
The life insurance market in Vietnam seems very promising as the country has a population of over 85 million people, with only eight life insurers. Thus, life insurance market can prove to be a boon for foreign life insurers.
The report forecasts that during the 2008-2010 period, Vietnam 's insurance industry would grow at a Compound Annual Growth Rate (CAGR) of around 22 percent; life insurance is projected to hit a CAGR of about 12.1 percent; and non-life insurance industry is expected to grow at a CAGR of 29 percent./.