Intel, the world's largest chipmaker, received approval on Friday to increase its investment in its new Ho Chi Minh City factory to US$1 billion.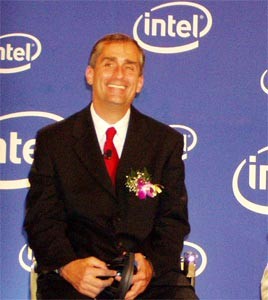 Brian Krzanich in Ho Chi Minh City (Photo: Tuong Thuy)
Intel vice president Brian Krzanich was at City Hall to receive the amended investment license from the Ho Chi Minh City People's Committee.
The news came a week before US President George W. Bush arrives in Ha Noi for the APEC Economic Leaders Meeting and three days after the World Trade Organization admitted Viet Nam as its 150th member.

The US corporation is building a US$300 million chip assembly and testing plant in Saigon Hi-Tech Park on the outskirts of Ho Chi Minh City. Its original license, granted in February, allowed the company to invest up to US$605 million, nearly half of this in the first stage.
The larger facility, which will employ more people, is set to start operations in late 2007. A company source who wished to remain anonymous said Intel would employ double the previously planned workforce of 1,200.
In the first announcement about the Viet Nam factory back in February this year, Intel described it as part of the corporation's worldwide expansion of production capacity.
"By the end of 2006, the company plans to invest over $6 billion worldwide for capital additions. When completed, the Viet Nam facility will be the seventh assembly site of Intel's global network.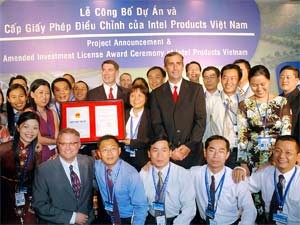 Intel products Vietnam's members at a ceremony to award the license
Other sites include Penang and Kulim, Malaysia; Cavite, Philippines; Chengdu and Shanghai, China; and San Jose, Costa Rica," the company said in the announcement.
Last month, Intel Corp.'s Intel Capital and the Texas Pacific Group paid US$36.5 million for a stake in FPT, Viet Nam's largest information technology firm.
Related article
Intel to Invest Up to US$1 Billion in Viet Nam