Viet Nam has permitted Intel Corp., the world's largest chipmaker, to increase its initial investment in Ho Chi Minh City from US$300 million to up to US$1 billion to fund an increase in production capacity.
The Ho Chi Minh City People's Committee will present an amended license to the US corporation on November 10.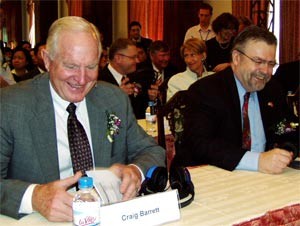 Intel Chairman Craig Barrett (L) and US Ambassador Michael Marine at Intel's license presentation in HCMC in February 2006 (Photo: Tuong Thuy)
Intel is constructing a US$300 million chip assembly and testing plant in Saigon Hi-Tech Park on the outskirts of the city. Its original license, granted in February, allowed the company to invest up to US$605 million, nearly half of this in the first stage.
The adjusted license was issued by Saigon Hi-Tech Park, rather than the Ministry of Planning and Investment, as allowed under the new Investment Law, which replaced the old laws on domestic and foreign investment in July of this year.
What will be the first chip plant in Viet Nam is already the largest single US investment in the country, so the latest license can certainly be seen as a major victory in Viet Nam's campaign to attract more foreign investment.
This latest development came on Tuesday, the same day when the World Trade Organization admits Viet Nam as its 150th member in Geneva, Switzerland.
Intel's original plan was to complete the chip factory, which would employ 1,200 people, sometime next year. Its present intentions are unknown at this stage.
When receiving the original license in February, Intel described the Viet Nam project as part of Intel's worldwide expansion of production capacity.
"By the end of 2006, the company plans to invest over US$6 billion worldwide for capital additions. When completed, the Vietnam facility will be the seventh assembly site of Intel's global network. Other sites include Penang and Kulim, Malaysia; Cavite, Philippines; Chengdu and Shanghai, China; and San Jose, Costa Rica," the company said in a statement at that time.
Related article
Intel Launches 1st Chip Plant in VN, Becoming Biggest US Investor