"Highlights of Vietnam's rebound and recovery" was the theme of a conference held in Hanoi November 30 by Euromoney Conferences, a leading organizer of conferences for cross-border investment and capital markets.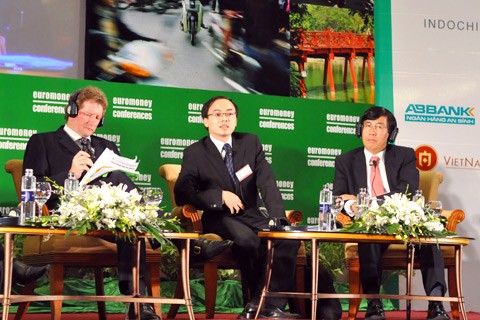 Nguyen Dang Binh (C) of the Ministry of Planning and Investment speaks at the Euromoney conference in Hanoi on November 30
Delegates attributed the economic turnaround to the country's stable political environment and continued commitment to reform, continued growth and product sophistication in Vietnam's capital markets, 90 million young, ambitious and increasingly wealthy Vietnamese, vast and enticing investment opportunities in infrastructure, low costs, competitiveness, and increasingly sophisticated location as a manufacturing base.
Hundreds of senior government officials, foreign portfolio and direct investors, domestic capital market leaders, and heads of State-owned enterprises gathered to appraise Vietnam's investment and growth opportunities.
Some granted Sai Gon Giai Phong exclusive interviews.
Nguyen Dang Binh of the Ministry of Planning and Investment said the country implemented a stimulus package this year to revive the economy and this would possibly stoke inflation. The government clearly recognizes the problem and has tightened monetary policy as a result, he said.
The Asian Development Bank's country director for Vietnam, Ayumi Konishi, said the Government reacted in time to the economic crisis and as a result the economy has grown since the beginning of the year.
Mr. Konishi expected it focus on social welfare to ensure sustainable economic growth. The country has the potential for economic growth since its private sector is developing fairy well and it is attracting FDI, but it faces challenges since its main export markets like the US, EU, and Japan have not really recovered, he added.
The manager of Saigon Commercial Bank, or Sacombank, Nguyen Ho Nam, said Vietnam has a young population which would lead to huge spending. He pointed to the retail goods and services indexes, which indicate consumer spending, saying their numbers reveal good economic growth.
Tony Shale, CEO of Euromoney Institutional Investor Asia, said foreign investors are satisfied with the changes Vietnam has made to its interest rate and currency policies.