The 8th International Travel Expo-Ho Chi Minh City (ITE-HCMC) will be held at the Saigon Exhibition and Convention Center from September 13-15.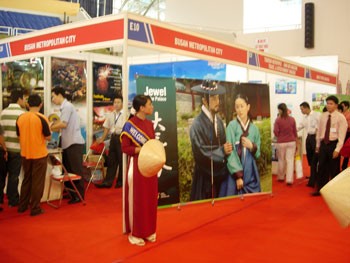 A display booth presenting South Korea's Busan area  (Photo: KK)
The Travel Expo this year will focus on the quality of international tourism. The organizers have coordinated with international partners and airlines to invite more than 100 foreign buyers from southern Europe, South Africa, Turkey, Russia, China,  northern Europe, the US and India to take part in the event.
The event will include a series of activities as well as a discussion on exploiting the Greater Mekong Sub-Region Economic Cooperation Program and a conference on tourism attended by mayors of Ho Chi Minh City, Phnom Penh (Cambodia), Viengchan (Laos), Yangon (Myanmar), Bangkok (Thailand), Kunming in Yunnan (China), Jeju and Busan (South Korea).
Established in 2005, the International Travel Expo-Ho Chi Minh City (ITE-HCMC) is an annual travel exhibition. The event is a chance for local and international travel enterprises and organizations to exchange and enhance business cooperation.