Vietbuild Ha Noi 2006, an international exhibition on construction, building materials and house decoration, will take place from March 29 to April 3, 2006 with the participation of 137 Vietnamese and foreign enterprises.
The 27 companies from eight foreign countries are producers and traders of building materials, electric devices, toilette items, interior decoration items, glasses, real estate, etc, said Vietnamese Deputy Construction Minister Tong Van Nga.
The venue is Viet Nam-Russia Culture and Friendship Palace, 91 Tran Hung Dao Street, Ha Noi.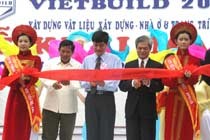 Vietbuild 2005 was organized in Ho Chi Minh City
At the fair, the Ha Noi Zoning and Architecture Department will display zoning maps for different new residential areas to call for foreign investments. Department officials will be present to answer questions.
 
On the agenda are workshops on new building materials and new building technologies, together with consulting activities for visitors.
The organizer is AFC International Exhibition Fair Corp., whose address is 76 Nguyen Phi Khanh Street, District 1, Ho Chi Minh City.