The 17th International Trade Fair – Viet Nam Expo 2007 will take place at the Giang Vo Exhibition and Fair Center in Ha Noi from April 4-8, Deputy Trade Minister Mr. Luong Van Tu told reporters yesterday.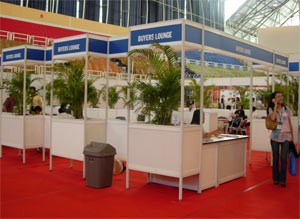 The expo will give Vietnamese and foreign enterprises an opportunity to market thier wares, swap information and get to know how each other. (Photo:KK)
Nearly 500 Vietnamese and foreign companies have registered to lease 700 display booths, plus there will be 54 foreign and 20 Vietnamese trade delegations in attendance.

The goods on display will include agricultural commodities, machinery, communications gear, textiles, clothing, footwear, handicrafts, stationery and building materials, etc.

The show is held every year by the Ministry of Trade to give Vietnamese and foreign companies an opportunity to market their wares, swap information, and get to know each other.

Viet Nam's most important trade promotion helps boost trade and investment, as well as economic cooperation, particularly in the context of its greater integration into the global economy, Mr. Tu said.
Besides the Ministry of Trade, this year's organizers include the Viet Nam Trade Promotion Agency (Vietrade) and the Viet Nam National Trade Fair & Advertising Company (Vinexad)