VinaCapital has a very positive outlook about Vietnam's economy since the Vietnamese Government has effectively dealt with the adverse impact of the global crisis, said VinaCapital Chairman Horst F. Geicke at a press meeting October 26 during the company's 2009 Investor Conference in Hanoi.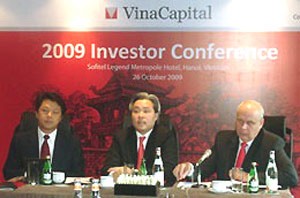 (L-R) An identified person, VinaCapital CEO Don Lam and Chairman Horst F. Geicke chair VinaCapital's 2009 Investor Conference in Hanoi October 26 (Photo: VnEconomy)
The Government's stimulus package has also had a positive effect on the economy's recovery, said Mr. Geicke.
Reflecting on market developments, Mr. Geicke said: "Early 2008 witnessed a liquidity crisis after the Vietnamese Government presciently tightened fiscal and monetary policy, followed by the impact of the global financial crisis in the second half of the year. Vietnam has shown incredible resilience in overcoming these two principal challenges, and has delivered on its over 5 percent GDP target for 2009. The country is still an attractive destination in emerging markets of the world."
Temporary slowdown in new foreign investment will have no impact on the operation of VinaCapital. With US$300 million in cash, the firm will continue to call for investment and promote Vietnam to foreign investors around the world, he said.
Looking towards the future, Mr. Geicke added: "The Ho Chi Minh City and Hanoi stock market recoveries in 2009 have provided a platform for strengthened investment returns and an improved environment for deal-making."
Currently, VinaCapital's three AIM-traded investment funds have a total of US$1.7 billion in assets under management as of September 2009.
VinaCapital CEO Don Lam said, "We believe the next two years will see renewed interest in Vietnam among foreign institutional investors around the globe, and VinaCapital is positioned as the top general partner addressing the Vietnamese market."
This is the 4th investor conference of VincaCapital since 2003. The event aims to review the past year's economic and investment performance, and discuss the outlook for the market and VinaCapital's funds in the coming years.
Forecasting investment in 2010, the firm noted "hot issues" including healthcare, consumer goods, financial services, energy/clean energy and technology, mid-tier residential and retail shopping facilities; while "not-hot issues" consisted of stock market speculation for short-term gains, high-end residential speculation, office and hotel services.