Thousands of investors have registered to attend Initial Public Offerings (IPO) of state-owned enterprises.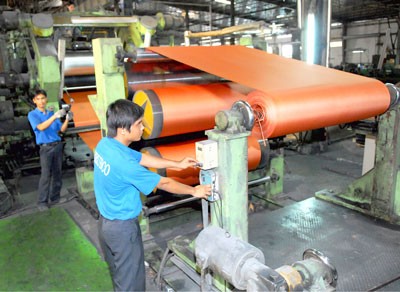 Ben Thanh Rubber Company is stably operating after equitization (Photo: SGGP)
Hanoi Stock Exchange organized nearly 20 IPOs since early this year. The government's target is to equitize 432 companies by 2015.
The number of businesses launching IPOs accounts for two-thirds in the first quarter. Most businesses are in traffic and construction fields including Transport Engineering Design Inc (TEDI), Viglacera Corporation and Thang Long Construction Corporation.
Vietnam Motors Industry Corporation offered 51 million shares, of which only 1.5 million accounting for 3 percent has been sold.
Companies with the most investors registered to attend IPOs were Civil Engineering Construction Corporation No.4 with 668 investors, Viglacera with 608 investors, and Vietnam Motors Industry Corporation with 126 investors.
Less than 30 percent of businesses sold all of their shares.
TEDI offered 2.6 million shares, yet the number of valid orders was 6.6 times higher with 17.17 million. Some investors were willing to pay up to VND 24,000 per stock, 2.4 times higher than initial price.
From 2011-2013, 99 enterprises have been equitized, according to the Steering Committee for Enterprise Renovation and Development.
The Ministry of Transport accounts for 50 percent of companies equitized in 2011-2013. The ministry has dismissed directors for their unwillingness to equitize.
The Government has applied drastic measures to obtain the target to equitize 432 in 2014 and 2015.
A resolution for laying responsibility was issued in March. Local authorities, ministries, and council chairmen will be held accountable if equitization runs behind schedule.
Some experts believe the State should hold a certain percentage of stocks in the equitized enterprises to ensure effective operation.
There is no need for the State to hold shares, said Minister of Transport Dinh La Thang. This will create advantageous condition for the companies to call on investors.