ITA Group, a leading industrial zone infrastructure developer of Viet Nam, on Tuesday signed contracts with partners to build a 4,400 MW thermo power complex and a deepwater seaport in the south with total capital of US$7.7 billion.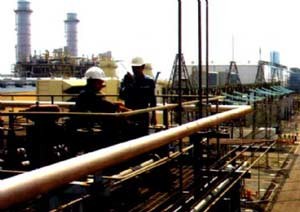 A thermo power plant in Viet Nam
ITA Group's partners in the huge project are Black and Veatch, a leading American engineering, consulting and construction corporation, FHDI Engineering Co. of China, one of the world's 50 leading port developers, and Viet Nam's Power Engineering Consulting Joint Stock Company 2 (PECC2).
The coal-fired Kien Luong power complex in Kien Giang Province will be the country's biggest thermo power plant to be developed by a non-State company.
US$1 billion of the US$7.7 billion will be designated to building the seaport in Nam Du Island as a transshipment point for coal supplied for the power plant.
The Ministry of Industry and Trade approved the Kien Luong power complex in late this February.
PECC2 is responsible for developing the master plan for the project, and FHDI will carry out a geological survey to build the port to serve the power complex.