The Italian Trade Commission and Metro Cash & Carry Viet Nam launched a two week promotion program on Thursday to introduce Italian food and wine. The program is part of the Italian festival that is taking place in Vietnamese big cities from June 12 to July 9.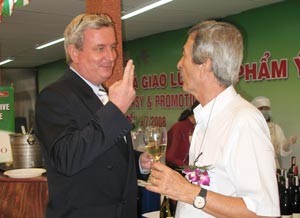 Italian Consul General Carlo Anzon (R) and Randy Guttery of Metro toast the launch ceremony at Metro An Phu (Photo: Tuong Thuy)
Two launch ceremonies were held at the Metro An Phu outlet in HCMC and Metro Thang Long in Ha Noi.
Mr. Carlo Anzon, Italian Consul General in HCMC, and Mr. Randy Guttery, managing director of Metro Cash & Carry Viet Nam, co-hosted the An Phu event.
"The event is more than just a celebration of food. It's also a celebration of the pleasure, the passion and the love for life that Italian products represent," said Mr. Guttery.
The "Made in Italy…Made Easy!" program is going on at Metro Cash & Carry outlets in HCMC, Ha Noi and Da Nang, targeting hotel, restaurant and catering operators. During the two weeks, these customers will have the opportunity to try genuine Italian dishes prepared by Metro chefs from genuine Italian ingredients like Ambrosi cheese and hams, Carapelli and Monni olive cooking oil, or Barilla pasta. The dishes are served with Italian wine.