A delegation of 18 Italian food and beverage producers is visiting Vietnam to explore the possibility of entering the country's consumer market where they see a high potential for growth.
The visit is part of the program Sapori D'Italia (A Taste of Italy) in Vietnam, organised by the Italian Trade Commission and the Federation of Italian Chambers of Commerce, to bolster trade ties between the two countries in the area of food and beverage.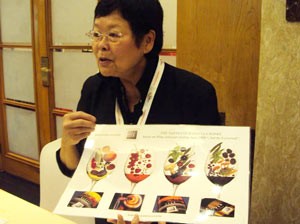 A member of the Italian mission introduces Italian wine at a press conference and wine testing session in Ho Chi Minh City Nov. 23 (Photo: Doanh Nhan Sai Gon)
"With a population of more than 86 million, a stable and high economic growth rate and an increase in the number of middle-class people, Vietnam is a burgeoning market for Italy's world renowned consumer goods industry," Italian Trade Commissioner in Vietnam, Marco Saladini, said at a press conference in Ho Chi Minh City on Nov. 23.
"The range of available Italian goods is quickly expanding and this implies that prices are also adjusting downwards, making them more affordable for the average consumer," he added.
Exports of Italian food and beverage to Vietnam were only 8.8 million euros last year, increasing by 16% on the year before, according to the Italian Trade Commission. Meat, wine and pasta played a key role among processed food products, the commission said.
The 25-member delegation includes representatives from 18 companies, whose product range spans from condiments for appetizers and wines to vinegar and olive oil, from pasta to preserved vegetables and frozen foods. They expect to establish contacts with local importers and distributors through business-to-business meetings organized by the commission in Ho Chi Minh City.
A wine tasting session was also held at the New World Hotel Saigon as part of the press conference Monday.
"Italian wine has conquered a forerunner's position on many foreign markets thanks to its delightful taste," said Mr. Marco Saladini.

Export of Italian pasta to Vietnam grew 25% last year to 570,000 euros, according to Italian Trade Commission.