Foreign direct investment (FDI) registration in Vietnam reached US$10.453 billion in the first eight months of 2009, fell 8.5 percent compared with the same period last year, said a Ministry of Planning and Investment report.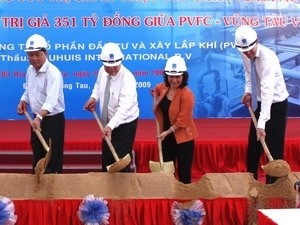 The construction of the Phu My Pipe Coating Plant starts on Aug. 22 in Ba Ria - Vung Tau Province
The report, issued on Aug. 25, said the biggest investors included the US with US$3.956 billion and Taiwan ($1.353 billion).
According to the report, there are 35 countries and territories investing in Vietnam. The first eight months' FDI registration is higher than 72% of the year target.
The FDI pledges include US$5.625 billion for 504 projects licensed in the period, said Mr. Phan Huu Thang, head of the Foreign Investment Department under the ministry.
In the period, US$6.5 billion in FDI pledges was disbursed
The first eight months saw 20 new projects in hotel and restaurant with combined capital being US$755 million, and three existing projects saw their capital go up by a combined US$3.8 billion in the fields.
The manufacturing and processing industry surpassed the real estate sector in terms of new capital, with two new steel production projects, China Steel Corp. and Japan's Sumitomo Metal, registering up to US$1.14 billion.
The southern province of Ba Ria-Vung Tau topped localities in FDI attraction during the period, drawing in $6.48 billion, followed by Ho Chi Minh City ($1.04 billion), the southern province of Binh Duong ($755 million), Hanoi ($367 million) and the southern province of Dong Nai ($281 million).