Viet Nam reported export revenue of US$32.87 billion in the first ten months of this year, a year-on-year rise of 24.2 percent and accounted for 87 percent of the year target.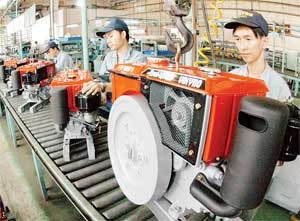 Viet Nam's Vykymo Company produces generators for export (Photo: SGGP)
Eight sectors have earned more than one billion dollars each: textile and garment (about $4.97 billion), footwear ($2.97 billion), crude oil (over $7.11 billion), fisheries (over $2.75 billion), wooden products ($1.53 billion), computers and electronics ($1.41 billion), rice ($1.21 billion), and rubber ($1.09 billion).
The garment and textile revenue has exceeded 90 percent of the year target and the total is expected at US$5.8-5.9 billion. The footwear sector has also surpassed 90 percent of the year target.
In the first ten months, the eight sectors are responsible for 70 percent of the country's total export revenue.
Four groups of items have brought home more than half billion dollars each: electricity wires and cables, handicrafts, coal and coffee.
Coffee shipments have gained US$880 million so far and the total is expected to exceed one billion dollars thanks to local high supplies currently and high prices in the world market. 

The Government has urged enterprises to ensure goods supplies for export in the remaining months of this year, especially those with high competitiveness, intensify trade promotions and increase product quality, said Mr. Bui Xuan Khu, standing Deputy Industry Minister.
The January-October period's import spending is almost US$37 billion, up 20.7 percent year-on-year. This growth is lower than the export revenue increase of 24.2 percent.
Notably, import spending for consumer goods, cars and car parts, motorcycle parts, petroleum, steel, materials and accessories used for textiles and garments has decreased a little. This means local supplies have increased to some extent.
Further good news is that imports of technology, machines and equipment have increased, demonstrating the economy's rising production capacity.
Statistical figures show that over US$5.3 billion was spent importing technology, machines and equipment from January to October, about one billion dollars higher than the same period last year.