Minister of Industry and Trade Vu Huy Hoang said Japanese authorities and business executives stated Viet Nam was a reliable partner at a recent conference held in Tokyo, Japan.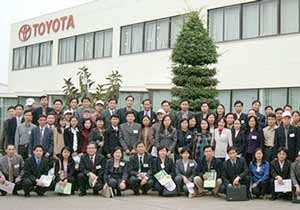 Toyota is a big Japanese investor in Viet Nam
Hoang told Viet Nam News Agency that Japanese partners said boosting strategic partnerships with Viet Nam in all fields, contribute to bringing bilateral relations to new heights.
Both Viet Nam and Japan are working hard to complete negotiations on an economic partner agreement and reach the agreement as soon as possible, the commercial chief said.
He added that the just-concluded conference, hosted by Nikkei newspaper, highlighted the important role played by Asia in the international community, especially the importance of the Japan-ASEAN relationship and relations between Japan and the Greater Mekong Sub-region, of which Viet Nam is a member.
The minister said member countries of ASEAN and the Mekong Sub-region should cash in on close and friendly relations with Japan to develop their infrastructure speed up international integration and implement their targets of poverty reduction and sustainable development.
Earlier on May 23, Minister Hoang met with Japanese Foreign Minister Masahiko Komura, who said he wished for further cooperation between the two countries in the future.