PetroVietnam Tourism and Services Joint-stock Company (Petrosetco), a member of the Vietnam Oil and Gas Corporation, and Japan's Itochu Cooperation signed a Memorandum of Understanding in Ho Chi Minh City on March 9 to set up a joint venture for building a bio-ethanol production plant, the first of its kind in Viet Nam.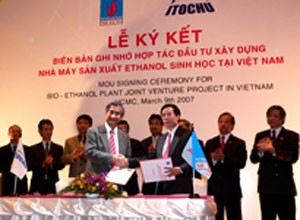 Nguyen Huu Thanh (R), general director of Petrosetco, and Toshio Shigemi shake hands after the signing ceremony late last week
The factory will be located in the city's Hiep Phuoc Industrial Park and production is expected to start in the first quarter of 2009.
 
The US$100-million project will turn out 100 million liters of ethanol per annum from tapioca chips.
 
The ethanol will be sold in Viet Nam as an additive to regular gasoline and will be used for industrial and transportation applications.
 
At the signing ceremony, Petrosetco chairman Tran Cong Tao said, "With 1.2 million tons of tapioca chips exported annually, Viet Nam can produce at a minimum 400 million liters of ethanol per year. With a gasoline to ethanol concentration of 10 to 1, that production capacity alone will be able to meet 50 percent of Viet Nam's current demand."
 
"Using ethanol will help the country reduce its petrol imports as well as reduce environmental pollution", he added.
 
Mr. Tao noted that in the past 10 years, Petrosetco has been an industry leader in the exportation of tapioca chips from Viet Nam.
 
Deputy Minister of Industry Do Huu Hao stressed that Viet Nam is encouraging enterprises to invest in bio-ethanol production. The Vietnamese government has ordered the Ministry of Industry to study and frame regulations and policies on investment incentives for this sector.
 
The establishment of the joint venture will be an important step towards creating a new source of fuel in Viet Nam, he said.
 
Toshio Shigemi, deputy executive director of Itochu Tokyo, said that they are more than willing to share their more than 30 years worth of experience in ethanol production to help Viet Nam develop their first successful bio-ethanol project.