Japan has pledged to provide official development assistance (ODA) loans worth nearly JPY120 billion (US$1.3 billion) in total for Vietnam during the 2009 fiscal year.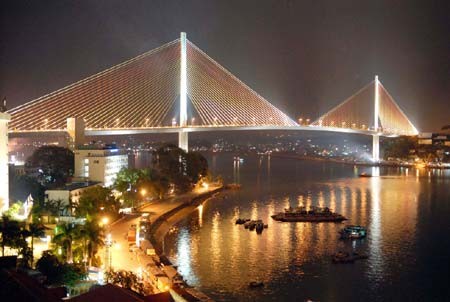 Japanese-funded Bai Chay Bridge has helped boost the socio-economic development in the northern province of Quang Ninh.
To this effect, seven agreements were signed by Deputy Minister of Finance Tran Xuan Ha and Oshima Kenzo, Vice President of the Japan International Cooperation Agency (JICA), in Tokyo on November 10.
The loans will be used to support small- and medium-sized enterprises, encourage the effective use of energy and clean energy sources as well as build the Thai Binh Thermoelectricity Plant and the first phase of the electricity transmission line.
The loans will also help develop infrastructure, reduce poverty and stimulate economic development.
According to the Ministry of Finance, in the context of the world economic crisis, the signing of the agreements continues proving the importance of the Vietnam-Japan strategic partnership.
This is the 17 th consecutive year the Japanese government has provided ODA for Vietnam . Japan 's total ODA pledged for Vietnam since 1992 has reached over JPY1,370 billion and the commitment for the 2009 fiscal year is the largest one.
Infrastructure, energy, transport, seaport and telecommunication are areas that have received the most ODA funding from Japan .
Many Japanese-funded projects such as the Pha Lai, Phu My Thermoelectricity Plants, Ham Thuan-Da My Hydropower Plant, Tan Son Nhat International Airport and Bai Chay Bridge have helped boost the socio-economic development in Vietnam.